– Pickup Point /集合出发点 :  KLIA / KLIA 2
– Check In time/登入时间 : 1500 pm / 下午
– Check Out time / 退房时间 : 1200 noon / 下午
– Selected Date Departure and Return / 指定日期出发及回程
– Pre-Booking Request / 需提前预订
飞机场来回交通接待 Airport 2 way Land Transportation
司导服务 Driver Guide Service
酒店2晚住宿 Hotel 2 Night Stay
× 私人消费 Own Expenses
× 自费项目 Self Expenses Ticket
× 司机小费每位马币10 元 Driver Tipping RM10 per person
条款与条件 Terms And Conditions
1. 必须连续2晚入住同一房型 / 2 nights must be on consecutive stay in same category of room.
2. 不包括早餐 / Breakfast not included.
3. 机场接送根据固定时间 / Airport transfer from KLIA based on fixed time.
4. 坐席为拼团式 / Seat-in-coach basis.
5. 确认后将通知会议地点和时间 / Meeting point & time will be mentioned upon confirmation.
6.乘客人数将根据预订的房间数目而定 / Number of passengers will be according to number of rooms reserved.
7. 抵达的前24小时内取消不予退款 / No refund for cancellation made within 24 hours before arrival.
8. 从2020年12月18日至31日,旺季附加费为RM115 / Peak season surcharge of RM115 nett from 18th-31st December 2020.
景点介绍 Introduction Itinerary

不夜城唐人街距离安莎酒店约12分钟车程,位于吉隆坡的心脏地带,与比双子塔和武吉免登比较起来,唐人街更有色彩、更繁忙。 坐落在茨厂街上的唐人街弥漫着浓厚的东方文化,遗产和历史中,这里无疑是马来西亚最受欢迎的旅游景点之一。 唐人街更是著名的讨价还价天堂,在这里您可以找到各种中草药、仿制品等物品。 到了晚上,茨厂街变成了一个充满生机和活力的夜市,到处都是数百个摊位,以低廉的价格出售各种商品。
Around 12 minutes by car from Ansa Hotel, Chinatown is located at the heart of Kuala Lumpur where it is an area that never sleeps, and far more colorful and bustling than its bigger and more glamorous neighbors, KLCC & Bukit Bintang. Chinatown, based in Petaling Street, is also known as 'Chee Cheong Kai' (Starch Factory Street), a reference to its roots as a tapioca-producing district. Deeply immersed in Oriental culture, heritage and history, Chinatown is undoubtedly one of the most popular tourist spots in Malaysia. Chinatown is also a well-known bargain hunter's paradise, a place where you can find all sorts of stuff from Chinese herbs to imitation goods. At night, its main market area, Petaling Street, transforms into a lively and vibrant night market, filled with hundreds of stalls offering all kinds of goods at dirt-cheap prices.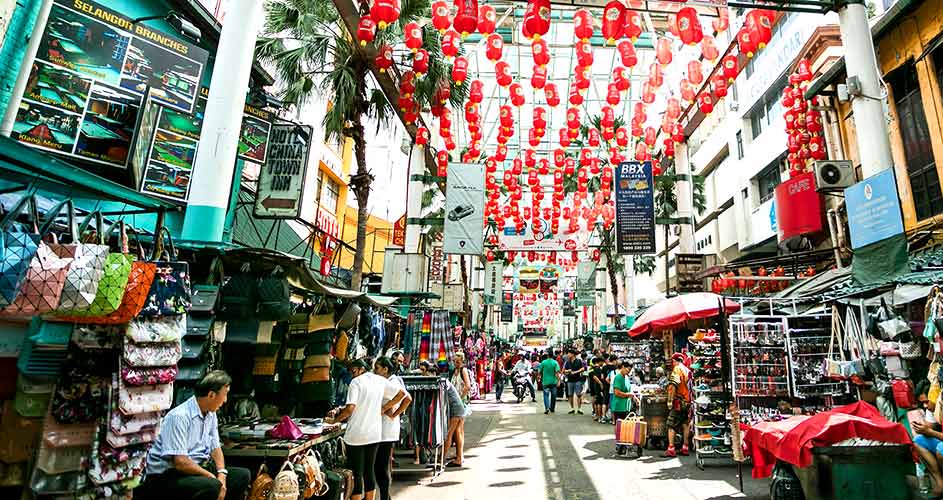 Atmosphere 360是一间现代而优雅的旋转餐厅,位于海拔282m处,坐落在东南亚最高大厦吉隆坡塔里。 整间餐厅布置成宇宙飞船般的氛围,以及壮丽的景色和满天星斗的光纤吸顶灯,给予顾客们真正难忘的奢华体验。 他们仅提供最优质的食品, 每道菜都是精心构思的,绝对能够满足任何人的味蕾。 Atmosphere 360每天在午餐和晚餐时段开放,提供多种自助餐,单点菜肴和鸡尾酒。
Atmosphere 360 is a modern and elegant revolving restaurant situated 282m above ground level located at the tallest tower in Southeast Asia – Menara Kuala Lumpur. The restaurant is furnished in a spaceship-like atmosphere with its magnificent view and starry fiber optic ceiling lights that offers a truly unforgettable and luxurious culinary experience. Offering only premium produce of the highest quality, their expert culinary artists will delight you with their meticulous preparations. Each dish is carefully conceived and deliciously presented for your discerning taste buds. Atmosphere 360 opens daily for lunch and dinner with wide selections of buffet meals, à la carte and cocktails.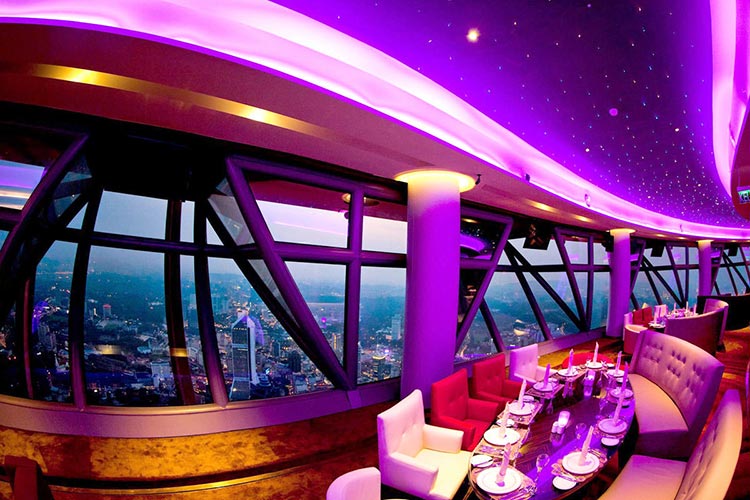 乐天购物广场底楼的十号胡同是国内首创聚集各大老字号美食品牌的美食中心,由香港著名美食家蔡澜亲自推荐,处处可以看到他的亲笔题字。美食中心的设计灵感来自北京的胡同。目前共有多达34个不同的档口,提供各种有名的大马道地传统美食。
Located under ground of Lot 10, the Lot 10 Hutong is the first food center in Malaysia that gathers all the famous and time-honoured food brands. It is personally recommended by Chua Lam, a famous Hong Kong foodie, and his inscriptions can be seen everywhere. The design inspiration came from Beijing's alley. Currently, there are more than 34 different stalls in Lot 10 Hutong, offering a variety of famous traditional Malaysian cuisine.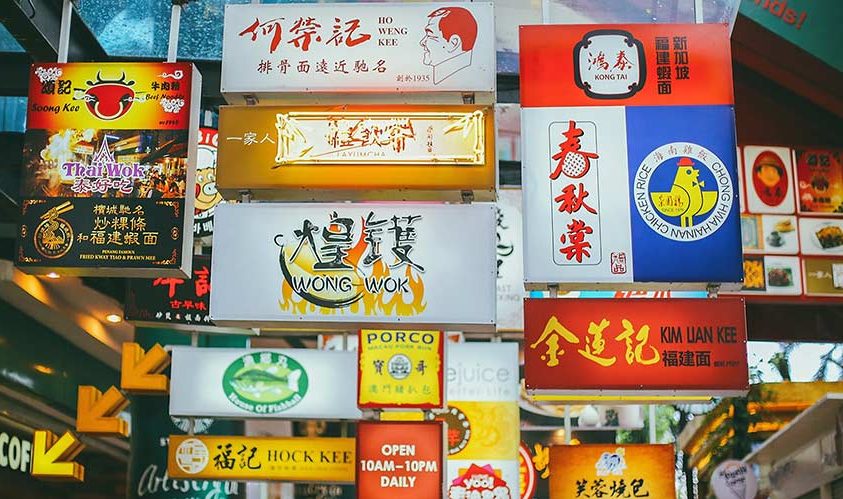 亚罗街是吉隆坡最有名的观光小吃街,位于金三角区的繁华地带,十多年来一直是游客必访的美食天堂!一条街上聚集了十多家小食店及几十摊大排档,集合了炒粿条、烧鸡翼(烤鸡翅)、沙爹、烧魔鬼鱼(烤魟鱼)、鱿鱼翁菜、亚参叻沙、广府炒、福建面、炒海鲜、东炎汤、烧腊饭等南洋美食,琳琅满目、种类齐全!
Alor Street is the most famous tourist food street in Kuala Lumpur. Located in the bustling area of the Golden Triangle, it has been a must-visit food paradise for tourists for more than a decade! There are more than a dozen food stalls on the street, delicious dishes such as fried rice noodles, roasted chicken wings, satay, roasted stingray, squid fish dishes, and Asam Laksa, Cantonese fried, Hokkien noodles, fried seafood, Tomyam soup, roasted rice and other dishes.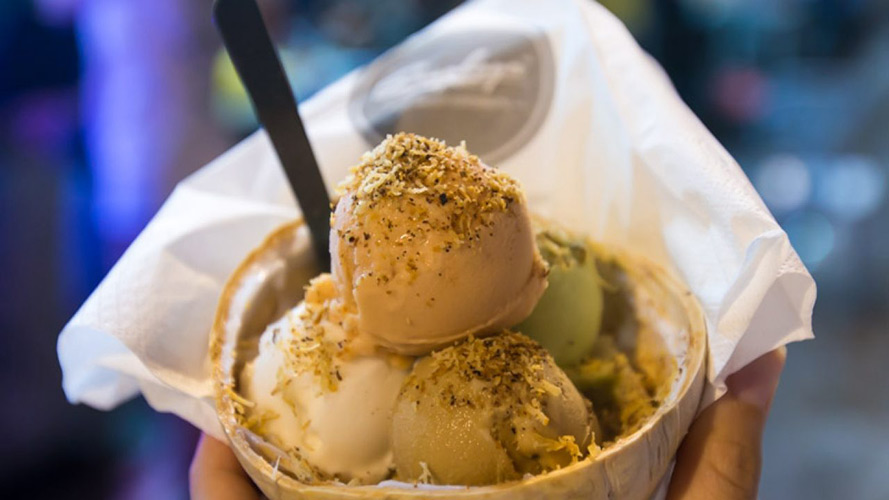 这个著名的购物和娱乐中心位于充满活力的吉隆坡中心,距离酒店仅2分钟步行路程。 武吉免登是以购物中心,夜生活,餐馆,街头音乐会,现场娱乐场所和咖啡馆而闻名。
This well-known shopping and entertainment hub in the heart of vibrant Kuala Lumpur is a mere 2 minutes walk from the hotel. Bukit Bintang is famed for its shopping complexes, night life, eateries, street concerts, live entertainment and cafes.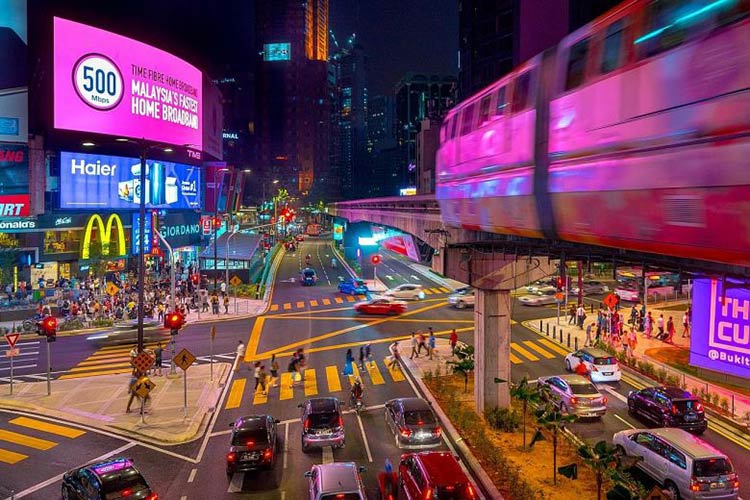 柏威年广场自2007年开业之后一炮而红,至今仍然是个热点。 广场里有许多不错的商店,并且可以迎合各种不一样的购物者。 除了有一个很棒的美食中心以外,柏威年广场也有许多餐馆和咖啡馆,绝对是游客必参观的地点之一。
Opened in 2007 and has been an instant hit since then. Pavilion offers many nice shops, and caters to the more general type of shopper. Pavilion has a great food court but also many restaurants and coffee bars. Definitely the place to be visit for tourists.
多年来最受欢迎的旅游购物中心之一。 当地人总是把它称为旅游购物中心,但每个周末仍有成千上万的人来此放松和闲逛。 此购物中心拥有许多商店,出售熟悉的国际品牌。
One of the most popular tourist malls for ages. Locals always call it a tourist mall, but still many tens of thousands come to this mall every weekend to relax and hang out. Suria KLCC has many shops that sell familiar international brands.
自费项目 Self Expenses Ticket
自费酒店早餐 Own expenses Hotel Breakfast
交通工具资讯站 Transportation Detail