– Pickup Point /集合出发点 :  KLIA / KLIA 2
– Check In time/登入时间 : 1500 pm / 下午
– Check Out time / 退房时间 : 1200 noon / 下午
– Selected Date Departure and Return / 指定日期出发及回程
– Pre-Booking Request / 需提前预订
飞机场来回交通接待 Airport 2 way Land Transportation
司导服务 Driver Guide Service
酒店2晚住宿 Hotel 2 Night Stay
2小时与云顶购物商城 2 Hours Visit to Genting Highlands Premium Outlet
法国村游玩,兔子园,日本村等 Tour to Berjaya Hills Rabbit Park, Botanical Garden, Japanese Village
× 私人消费 Own Expenses
× 自费项目 Self Expenses Ticket
× 司机小费每位马币10 元 Driver Tipping RM10 per person
条款与条件 Terms And Conditions
1. 在吉隆坡安莎酒店或成功时代广场酒店(二选一)的一晚住宿,和一晚在科尔马度假村酒店的住宿 / One night in ANSA Kuala Lumpur OR Berjaya Times Square Hotel and one night in Colmar Tropicale.
2. 吉隆坡安莎酒店不含早餐 / Breakfast not included in ANSA Kuala Lumpur.
3. 机场接送和云顶高原名牌折扣购物中心团的交通坐席皆是拼团式 / Sit-in-coach airport transfer and GPO tour service.
4. 抵达的前24小时内取消不予退款 / No refund for cancellation made within 24 hours before arrival.
5. 2020年12月18日至31日的旺季附加费为RM115 / Peak season surcharge of RM115 nett per night from 18th-31st December 2020.
景点介绍 Introduction Itinerary

位于法国主题村庄里的一个迷人度假胜地,提供轻松的客房,水疗中心,餐厅和高尔夫球场。这个古朴的度假胜地以中世纪的法国村庄为主题,被热带雨林所环绕,距离日本村有3公里,距离清水岩庙有37公里。
Relaxed rooms in a charming resort set in a French-themed village, offering spas, dining & golf. Themed after a medieval French village, this quaint resort surrounded by rainforest is 3 km from the Japanese Garden and 37 km from Chin Swee Cave Temple.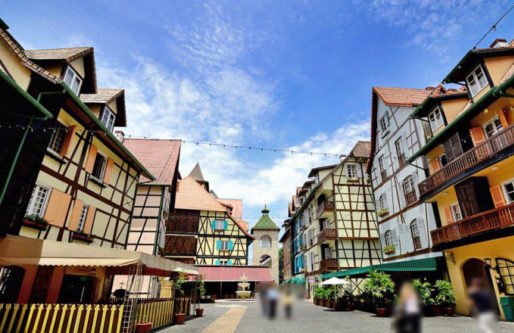 时尚的城市景观酒店,设有现代化客房,精致的餐厅,时尚的露台泳池和酒吧。 这家豪华的两座塔楼酒店距离成功时代广场主题乐园有1分钟的步行路程,距离燕美单轨电车站5分钟路程。
Stylish city-view hotel with modern rooms, plus sophisticated dining, a chic terrace pool & a bar. This posh 2-tower hotel is a minute's walk from the Berjaya Times Square Theme Park, 5 minutes from the Imbi Monorail station.


一家现代酒店有着时尚客房和套房,酒店外就是一个设有多种用餐选择的走道。这家精致的酒店位于城市的金三角(商业,购物和娱乐中心),距离单轨电车站仅3分钟步行路程,距离标志性的双子塔(Petronas Towers)4公里。
Sleek rooms & suites in a contemporary hotel featuring a walkway with multiple dining options. Set within the city's Golden Triangle (a commercial, shopping and entertainment hub), this sophisticated hotel is a 3-minute walk from a monorail station and 4 km from the iconic Petronas Towers.

户外购物中心,拥有许多著名的直销店和多元化的美食广场。
Sprawling outdoor shopping center with many well-known outlet stores & a diverse food court.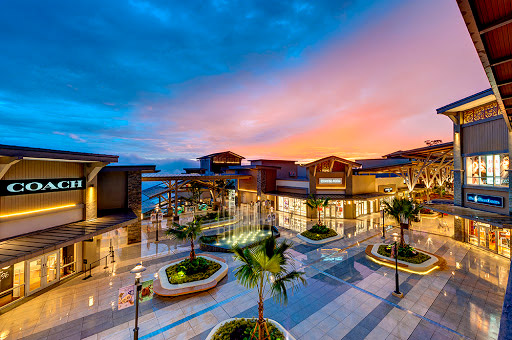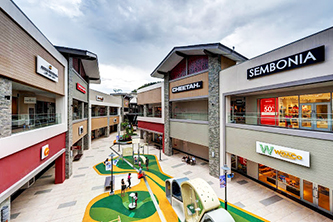 植物园距离科尔马度假村约有五分钟的车程,花园横跨四英亩的高地雨林-只有丛林地带为展示植物铺平了道路。 入口后即是Ryo Zan Tei日本餐厅。
Botanical Garden is about five minutes away from Colmar Tropicale by car or shuttle bus, the garden straddles four acres of highland rainforest – only the jungle floor was cleared of its original vegetation to make way for show plants. Ryo Zan Tei Japanese Restaurant is located right after the entrance.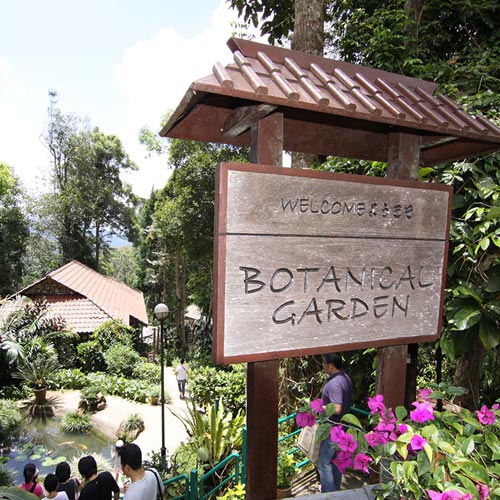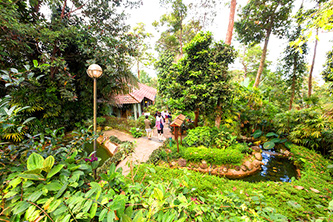 在这里,游客可以探索岩石池,锦鲤池,花园和日式茶馆,该茶馆每天都会举行几次传统的茶道。村庄四周是茂密的热带雨林,也是赏鸟的热门场所,从砾石小径的可以欣赏山谷的景色。
Here, visitors can explore rock pools, koi ponds, flower gardens and a Japanese tea house, which conducts a traditional tea ceremony several times daily. Surrounded by lush rainforest, the village is also a popular spot for bird watching, with views of the valley from strategic points along the gravel trails.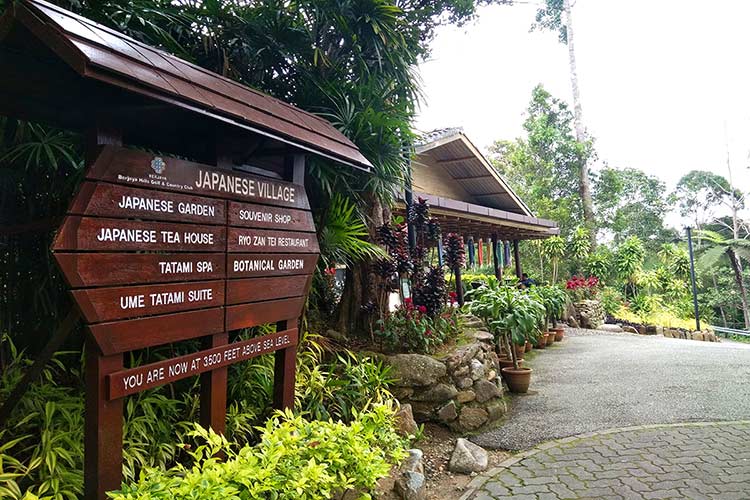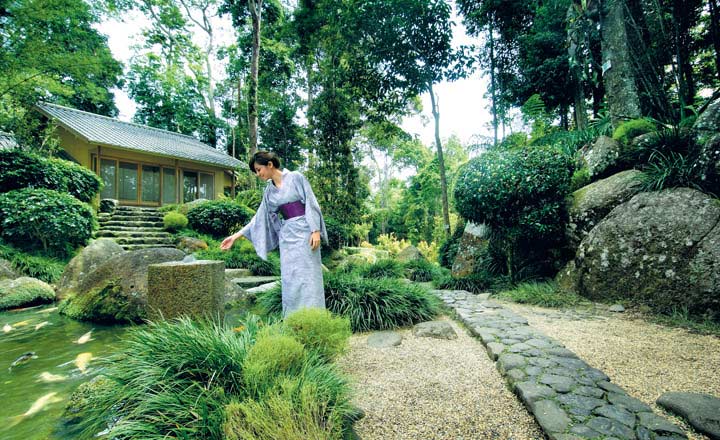 兔子公园是位于科尔马度假村和高尔夫俱乐部之间的小型宠物动物园。该公园拥有200多只不同颜色和大小的兔子,其中一些可供游客亲近和玩耍。公园里还放着一群鹿,游客可以喂它,还有几只驴。 酒店内的设施包括室外游乐场,儿童室内游戏围栏,洗手间和小型小吃店。每天早晨至晚上开放,每位成人/儿童均需支付门票费。
Rabbit Park is a small petting zoo located between Colmar Tropicale and the golf club. The park features over 200 rabbits of different colours and sizes, some of which are available for visitors to cuddle and play with. Also at the park is a collection of deer that visitors can feed, along with a few donkeys. Facilities on-site include an outdoor playground, indoor playpen for kids, restrooms and a small snack bar. Open daily from morning till evening, a ticket fee is charged per adult/child.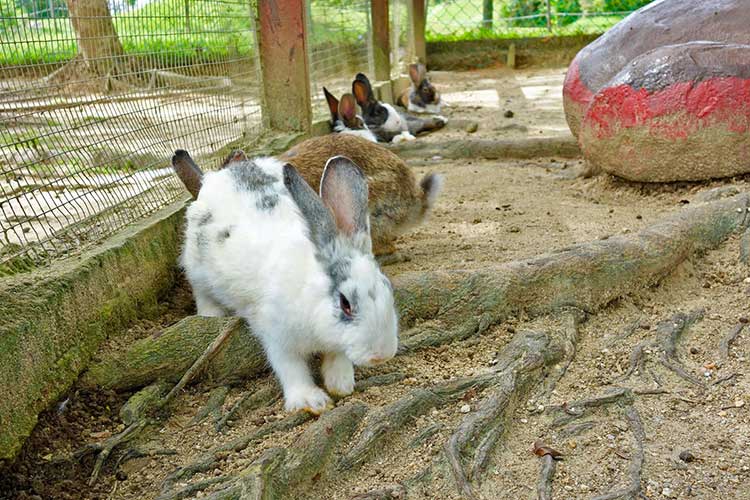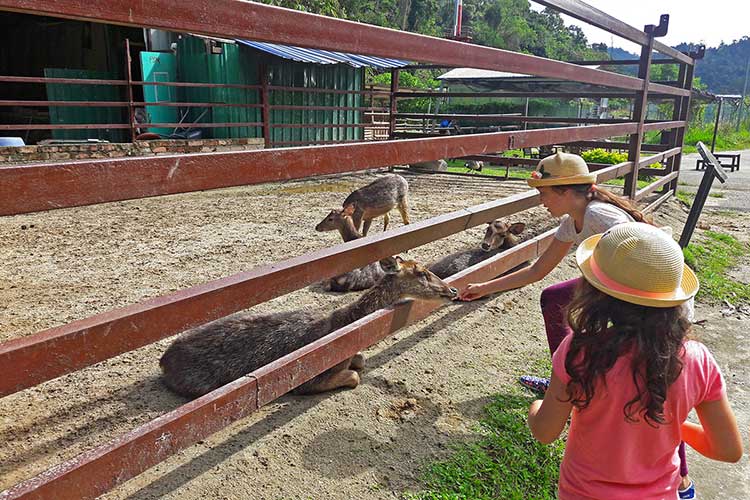 冒险乐园是成功山庄的极限运动中心,位于入口售票亭后不远处。 此中心提供一系列激动人心的活动,适合团队建设和休闲团体追求。它的主要吸引点是沿着雨林一公里长的空中滑索。 与之相连的是距离地面15米的树冠吊桥。
对于更多刺激肾上腺素的活动,游客可以尝试沿着主要道路攀岩或沿着人造岩壁往下爬。 最后,在乡村中隐藏着一个彩弹射击区,可以用装满油漆小球的枪来模拟战争的射击情景。
Adventure Park is an extreme sports center at Berjaya Hills, located shortly after the ticket booths at entrance. The center provides a range of thrilling activities suitable for team-building and recreational group pursuits. Its primary attraction is a kilometer-long flying fox zipline that shoots along the rainforest. Connected to it s a canopy walk 15-meters off the ground that also leads to a hi-rope obstacle course.
For more adrenaline-surging activities, visitors can try rock climbing or abseiling down an artificial rockface along the main road. Finally, there's a paintball area hidden in the countryside that simulates warfare with guns that shoot paint-filled pellets.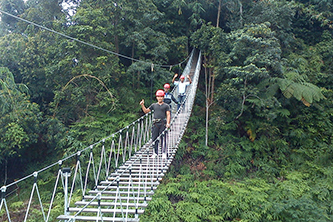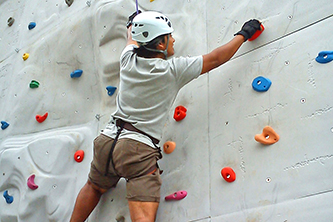 此庙是位于成功山庄高尔夫乡村俱乐部附近的东方神庙,可从酒店正前方的一条支路进入。 主祭坛是印度教神梵天的雕像,而较小的祭坛向佛致敬。 庙里还陈列着各种小雕像,它们是印度教的重要神圣动物。 像大多数寺庙一样,它每天开放,免费参观,主要迎合印度和中国当地的信徒。
Atma Temple is an oriental temple located near Berjaya Hills Golf & Country Club, accessible from a slip road at right before the hotel. The main altar is a statue of the Hindu deity Brahma, while a smaller altar pays homage to Buddha. Also on display at the temple are various figurines of elephants, an important sacred animal in Hinduism. Like most temples, it is open daily and free to visit, catering mostly for local Indian and Chinese worshippers.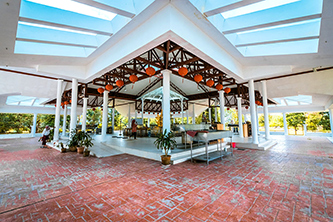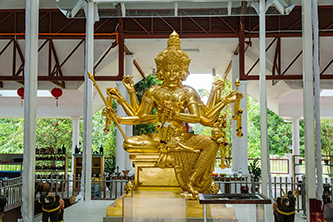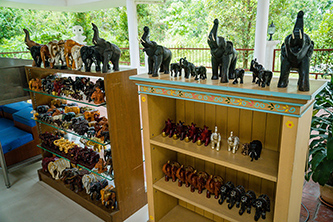 榻榻米水疗中心位于成功山庄日本村内,四周绿树环绕,环境幽静。 此水疗中心提供各种全身健康护理,包括芳香疗法,按摩,身体磨砂和反射疗法,将这些体验与以放松和恢复活力为主的日式沐浴法(furo)相结合。
水疗中心设在两层楼的平房中,该平房同样采用日本传统设计,例如Ume榻榻米套房,并配备了现代化的设施。 这里的一大亮点是室外温泉浴,位于面对热带雨林宜人的岩石花园内。
Tatami Spa is a Japanese concept spa situated within the Japanese Village of Berjaya Hills Resort Bukit Tinggi, surrounded by lush greenery in a tranquil nature setting. Offering various holistic health treatments, including aromatheraphy, massage, body scrub and reflexology, the spa combines these experiences with furo, a Japanese ritual of bathing for relaxation and rejunevation.
The spa center is housed within a two-storey bunglow, also of traditional Japanese design like the Ume Tatami Suite, and equipped with modern amenities. A highlight here is the outdoor onsen (hot spring) bath, housed within a pleasant rock garden facing the rainforest.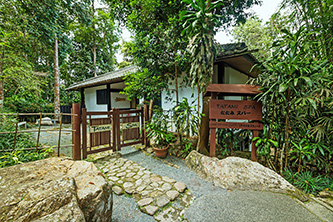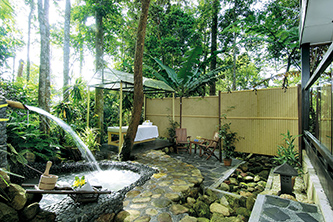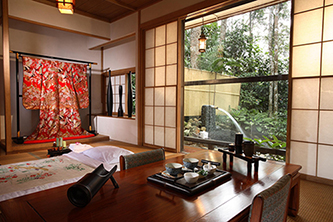 屡获殊荣的拉圣塔有机水疗中心是亚洲第一个欧洲水疗概念。结合欧洲最佳水疗专业知识和享誉亚洲的热情款待,享受全方位的水疗和健康护理,量身定制的健身和瑜伽计划,重焕身心活力。中心里除了有宽敞的水疗休息室,还设有10多个水疗理疗室,并配有从欧洲进口的设施。
被誉为最受欢迎的豪华胜地之一,让专家团队带领您踏上与众不同凝神与安宁的旅程 。
The multi-award La Sante Spa is the first European spa concept in Asia. Combining the best of European spa expertise with renowned Asian hospitality, embark on a holistic experience with a wide range of spa & wellness treatments, customised fitness & yoga programmes to rejuvenate your body, mind and soul. Designed with spacious spa lounge, La Sante houses over 10 spa treatment rooms complimented with wellness facility fully imported from Europe.
Slated as one of the most-loved luxurious pampering retreats, immerse yourself at the spa resort as a team of specialists takes you on a journey of rejuvenation and tranquility like no other.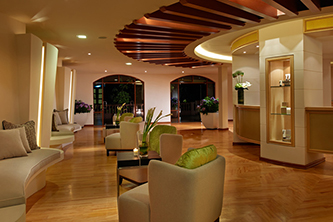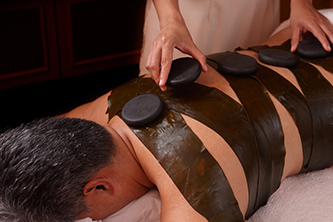 自费项目 Self Expenses Ticket
自费酒店早餐 Own expenses Hotel Breakfast
交通工具资讯站 Transportation Detail